---
The Basics of Ordering a Metal Print
---
What kind of pictures look great on metal?
Most people believe metal prints are best for landscapes, but we have found after doing thousands of prints with a variety of content, metal is suited for all types of images
portraits

abstracts

landscapes

professionally digitized paintings

commercial art

advertising

digital painting

lightscapes

astrophotography

wedding photography

and so much more...
---
Metal prints are a rapidly expanding art medium that boasts vibrant, brilliant colors and detail that is unsurpassed. Through a process called dye-sublimation, the print is infused (transferred) directly to a sheet of coated aluminum via heat and pressure. Metal Mouth Prints offer a wide range of shapes and sizes as well as a variety of finishes including white glossy, semi-gloss, matte, and clear options for glossy and matte.
We use only the highest quality Chromaluxe aluminum panels that are .045 inches thick with the highest quality coating available in the industry. Chromaluxe Aluminum Prints are not just the industry leader they are the yardstick all Metal Prints are measured by! Chromaluxe aluminum panels are made in the USA and are 100% recyclable.
A metal print makes for a great addition to a home or office that only compares to a facemount acrylic print but much more!

Chromaluxe Metal prints have been tested for fade resistance and have been found to outlast photo papers by 2-4 times.

Metal Prints are an excellent option for Artists, Photographers, Interior Decorators, Enthusiasts etc. to sell, show and decorate offices, homes and more.
The final prints are scratch resistant, water resistant, heat resistant and more.

Water resistance makes for a great print that can be placed in bathrooms and spas with high humidity levels. Finally you can place a piece of art in a master bath without worry of it getting destroyed by water and humidity.

Grease and food proof allows you to place a print right next to the stove in your kitchen or restaurant without it getting ruined by the splatter of grease and food. Just use a household or industrial degreaser and the print cleans right off. Just think, you can have a picture of the kids right there at the stove top without worry that it will be destroyed by grease and food splatter.
What finish should you choose for your metal print?
White vs Clear
White metal has an opaque, white coating on it, similar to white paper. Therefore, the color comes out as expected. White is the most popular finish.
Clear metal has a translucent, clear coating. The background color of the metal is a brushed silver aluminum. This surface is unpredictable due to the fact there is no white in the final print. If you are interested in clear, please order a smaller print to determine you enjoy the result.
Glossy
Glossy is very shiny and reflective. It is a mirror-like finish. It has a feeling of depth not felt in other print mediums and colors tend to have a feeling of higher saturation. White glossy is our most popular finish sold.
Matte
The matte finish has a very flat feeling and a low reflective surface. Some bright lights tend to show glow rather than a reflection.
Semi-gloss
This is a good balance between our glossy and matte finishes. It has approximately 60 percent of the depth of feeling from a glossy finish and very good reflection control, similar to the matte finish. White semi-gloss is a good option when displaying prints in an environment with large, bright, opposing windows and/or very strong direct lighting.
COMPARISON
Most customers that have seen metal prints in art fairs, galleries, and other venues have seen white glossy prints. White glossy prints generally present a feeling of depth as if they can reach directly into the print. These prints also create a stronger feeling of color saturation and sharpness. If you love glossy paper prints, you will fall in love with white glossy metal prints.
Clear prints are generally ordered by mistake and are a disappointment to the buyer, unless they have been viewed or purchased before. Clear prints have a unique visual quality in bright lighting but when the lighting starts to dim, the visual appeal is lost.
It is a strong recommendation that if you are interested in the clear surface that you order a small sample first. If you order a clear print, please expect that someone from our staff will reach out to verify your purchase. Generally, we will not proceed with production until this has been clarified.
Black & white prints on metal
A lot of companies that produce metal prints have issues with black and white prints. The prints in some cases may have a green, yellow, or blue cast. This is not an issue for our black and white prints on white metal. On clear metal, this can be impacted by the lighting and surrounding environment. On white metal, the prints are high contrast with smooth transitions from white to black. On clear metal, the prints are high contrast with less density in the white to light grays.
---
What hanger is right for your metal print?
None
You will receive your metal print without any form of hanging mechanism. You will be able to frame or display the print in any way you see fit, on your own.
acrylic foot
This is an easy method to place smaller prints on a table, shelf, or mantle instead of hanging them on the wall.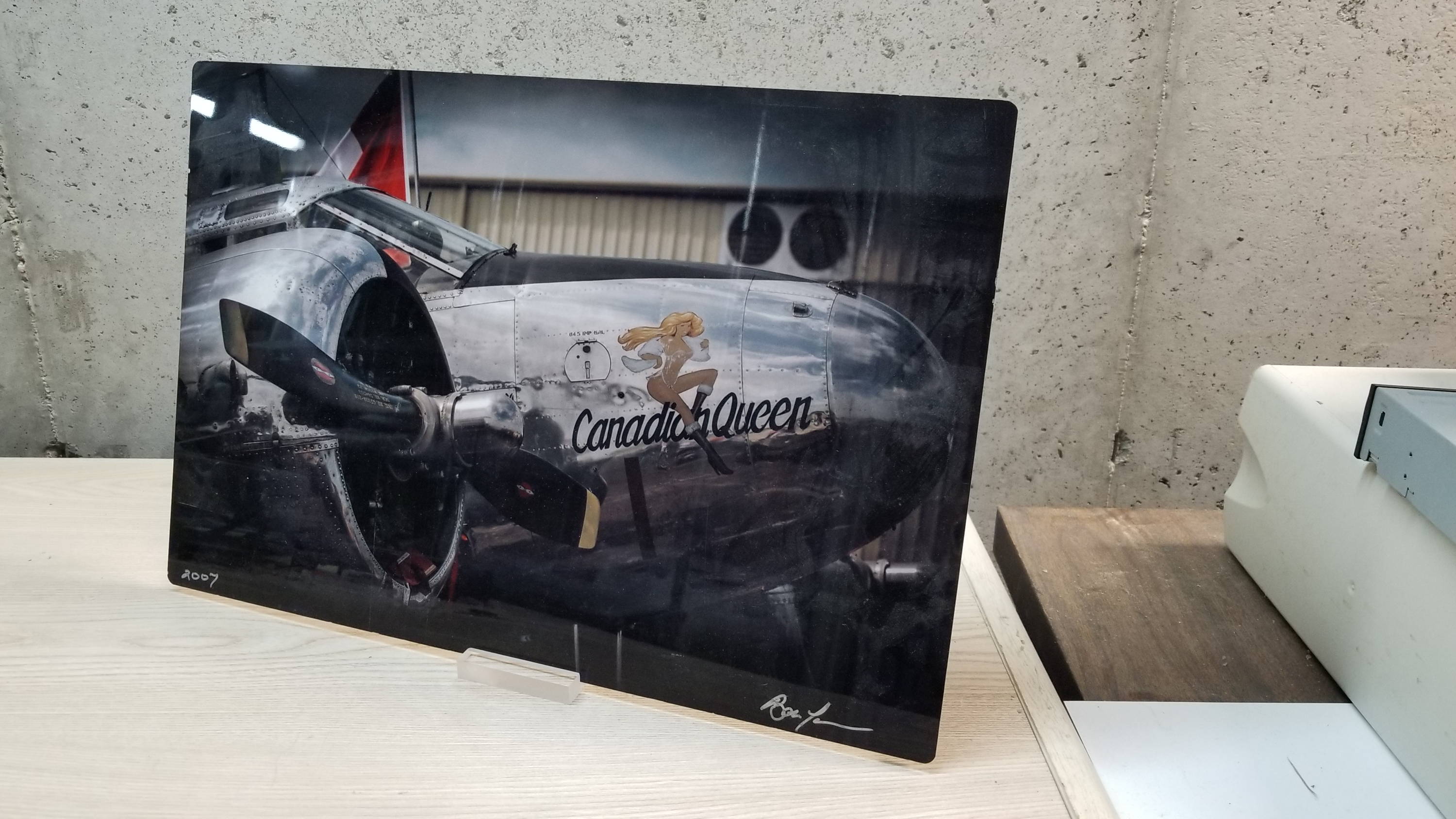 gatorboard
Gator foam board is a commercial quality foam board product. A half-inch thick piece of Gatorboard is attached to the back of the print inset approximately 1.5-3 inches of from the edge. A wire is attached across the back of the the print so that it can be easily hung from a nail or picture hook. The 1/2 inch Gatorboard provides a 1/2 inch float from the wall. The print is light weight and can also be hung with 3M Command Strips.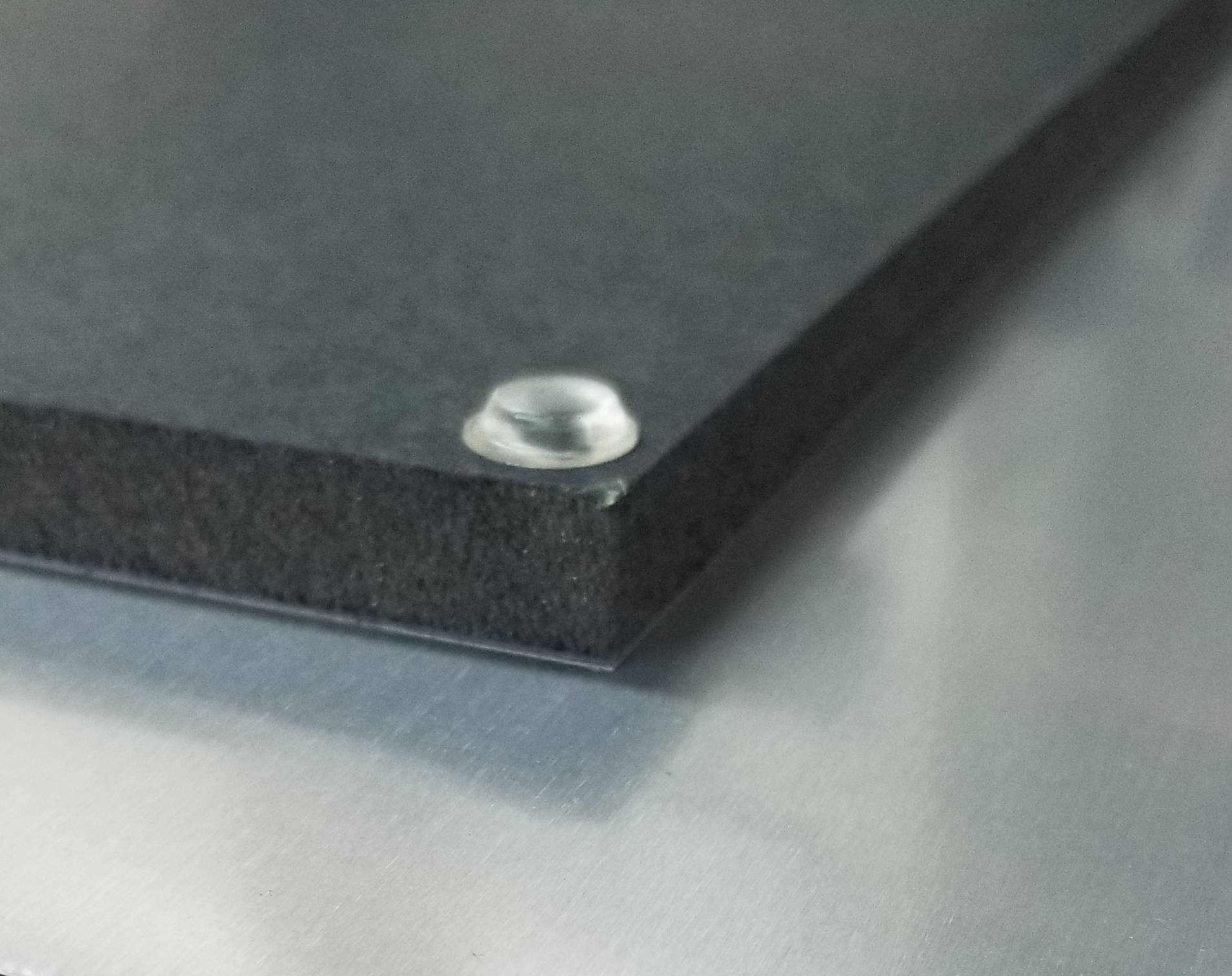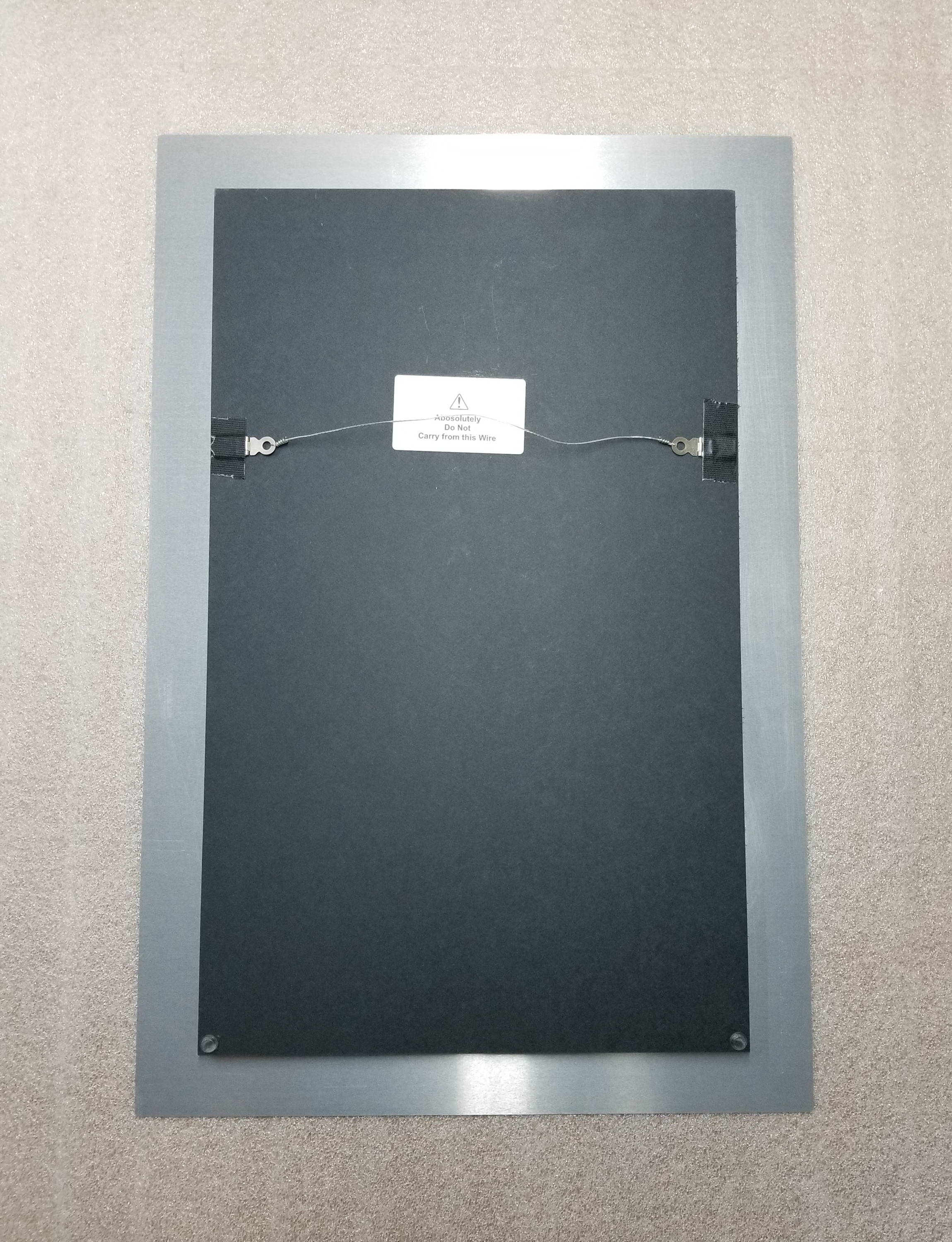 reverse metal frame
A 3/4 inch metal float frame is attached to the backside of your print with a permanent adhesive. The frame is inset approximately 2-3 inches from the edge and provides a 3/4 inch float from the wall. The print can be hung with a wire or cleat.
For larger prints, a 1 1/8 inch float frame is available.
The Reverse Metal Frame is a great option for hanging prints in a gallery or a business.
Locking hangers are available.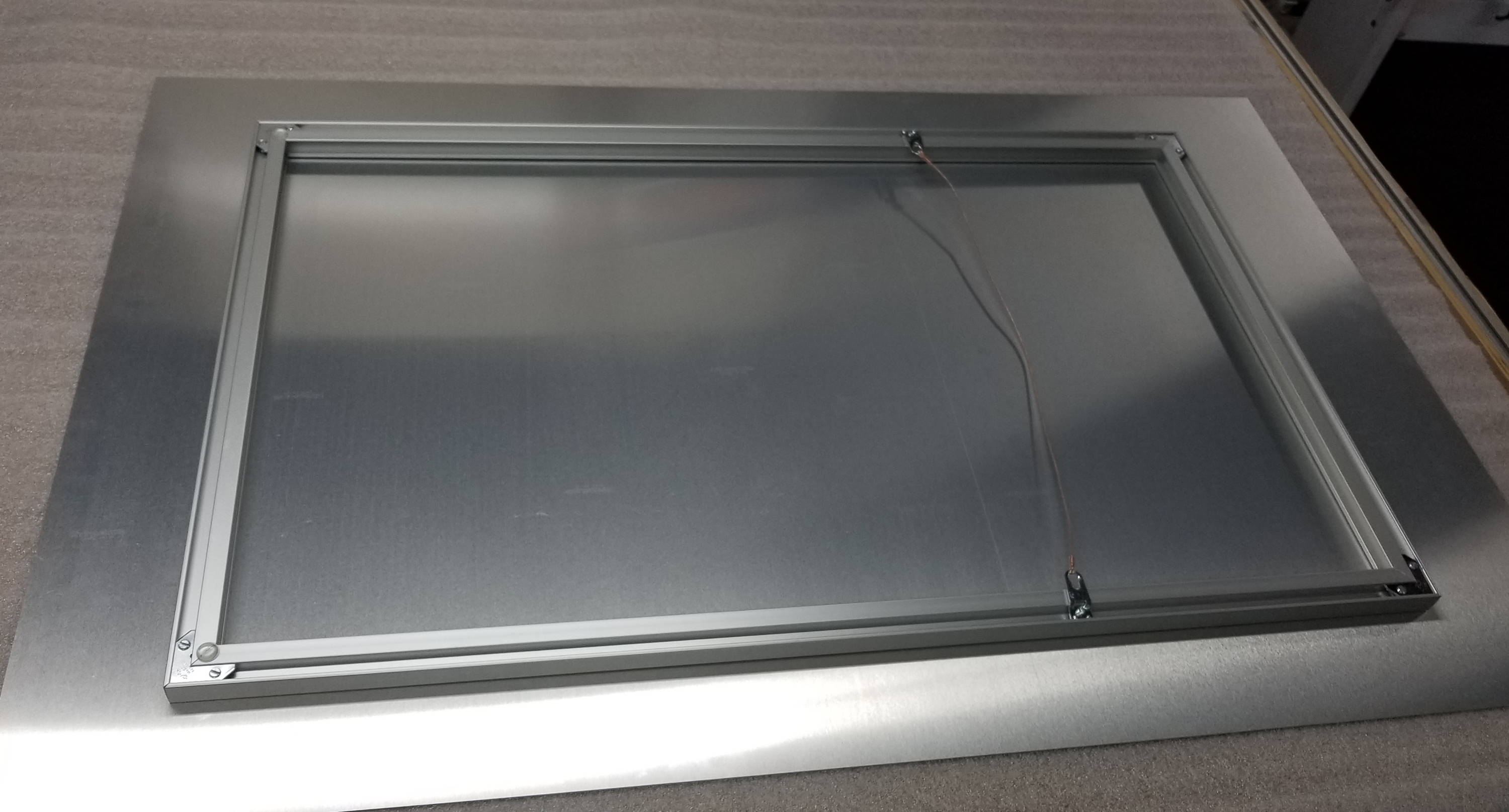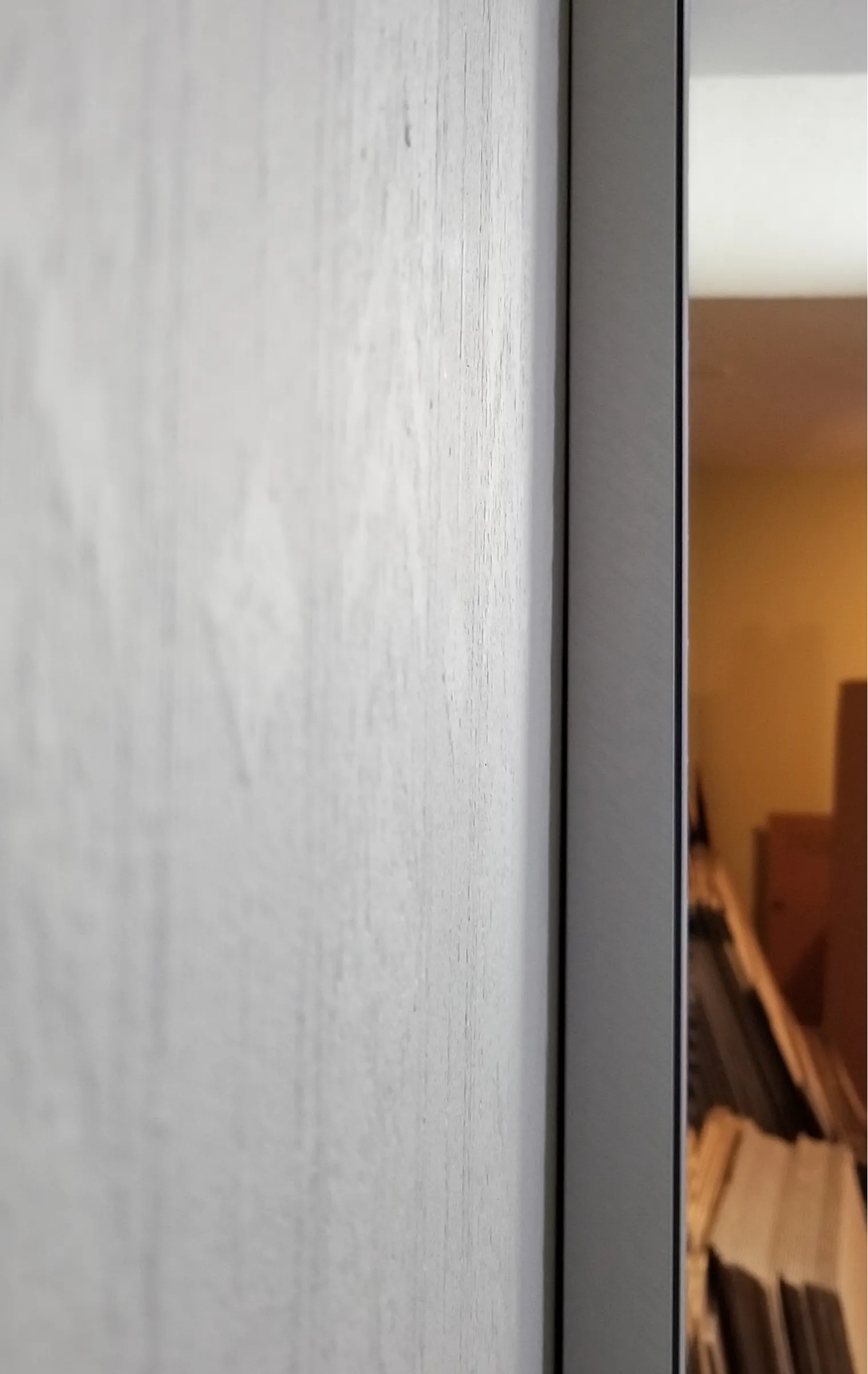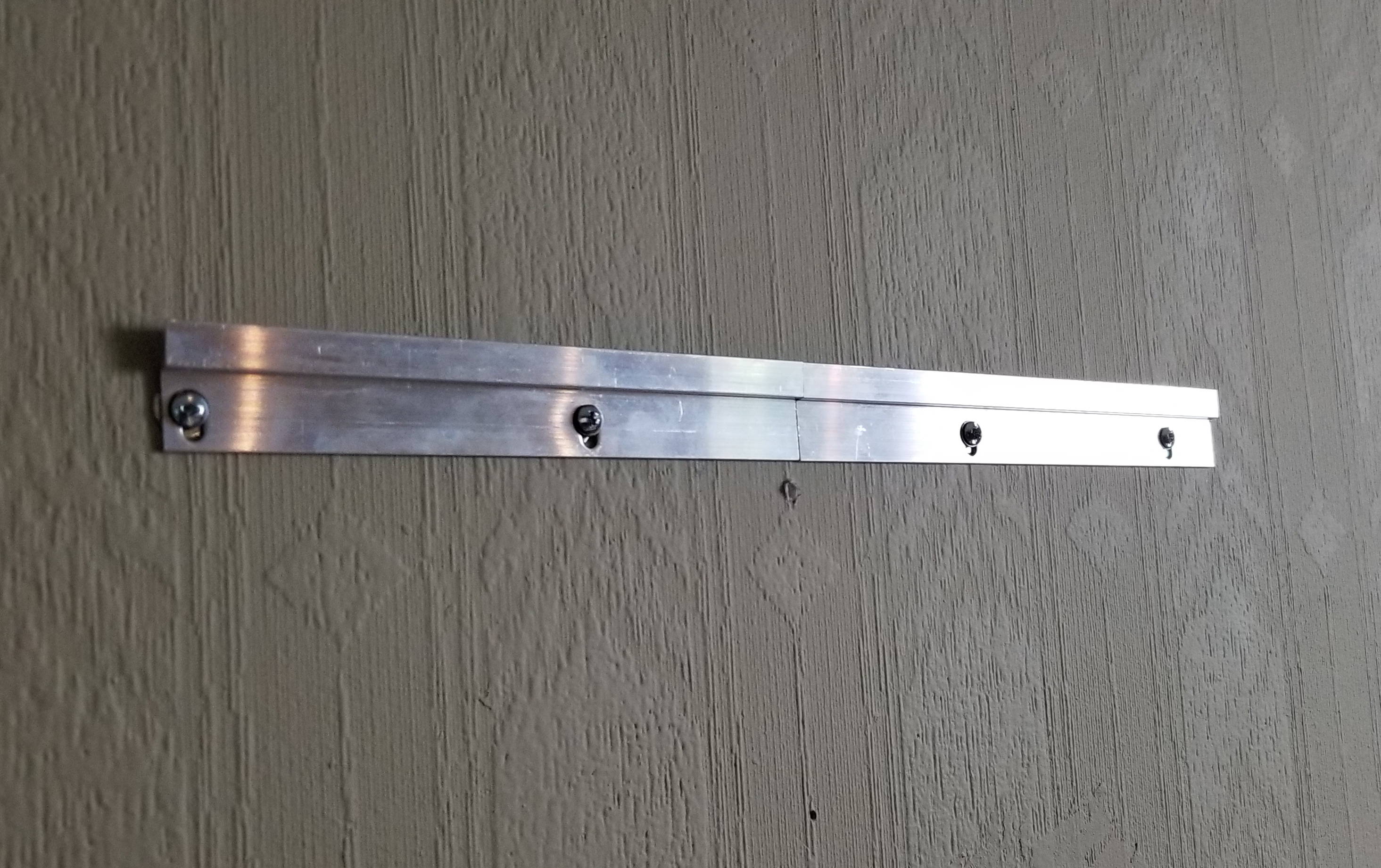 tin man magnetic mount
The Tin Man Magnetic mount is a 3/4 inch patented float mount that attaches to the wall with either a 3M Command Strip, nail, or screw. The 3-inch square block is attached to the wall and the print is then attached to the block with a magnet. This mount works well with prints up to 12x18 inches in size.
The block also includes a slot so that it can be used as a foot for the print to be placed on a shelf, table, or mantle.
If you are giving a print as a gift, this allows the recipient the flexibility of hanging the print or placing it on a desk, shelf or mantle.
Tin Man Magnetic mounts can be ordered with or without a print.